Comprehensive Approach to the Data Center Environment
Zero Downtime Raised Flooring Services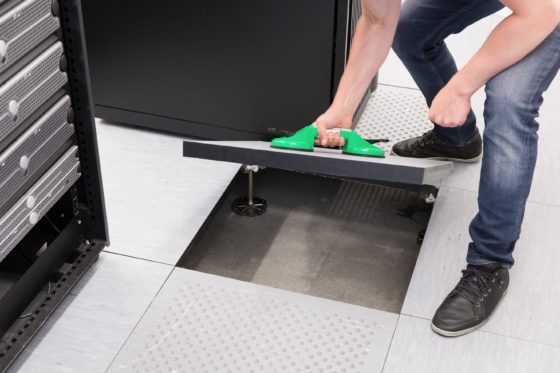 Our raised floor services are part of our comprehensive approach to servicing the whole data center environment. DataSpan ensures data center infrastructure optimization, lowering costs of operation, ensuring a safe work environment, and extending its useful life.
Raised flooring systems have an average lifespan of twenty years (as stated by manufacturers), but require ongoing maintenance and attention in order to avoid the weakening of the tiles, which could lead to a devastating partial or full-floor collapse.
We have been installing, strengthening, leveling, and replacing raised access flooring for over twenty-five years and offer a full range of flooring services to ensure you never have to worry about your flooring system again.
What We Offer
DataSpan Services & Advantages
Live Floor Replacement
New Installations
Tailored Solutions to Your Requirements
Competitive Pricing
Professional Inspections
Repairs, Strengthening & Leveling
Panel Sourcing, Replication, Recovering and Supply
Ramps & Steps
Data Center Cleaning and Sub Floor Sealing
Ventilation & Cable Entry Management
Support Framework
Benefits
Ensures a Safe Work Environment
Reduced Risk of Downtime
Reliable Infrastructure
Extended Data Center Life Cycle